Naming of the company's first platform supply vessel

With the seven sisters waterfall in the Geiranger fjord highlighting the scenery, the naming of PSV EVITA took place on June 30, marking The J.J. Ugland Companies' (JJUC) reentry into the offshore service vessel segment. The proud godmother was Ugland's Senior Personnel Manager Eva Svantesen.
Built at Kleven Verft, Myklebust, the Evita is a platform supply vessel of 5,000 tdw, with a beam of 20 metres and a deck space of 1,000 m2. Vessel owner is Ugland Supplier AS, a 50/50 J/V between the Sandvik family and the JJUC. The Grimstad-based Ugland Offshore AS is the manager and will operate the vessel in the market.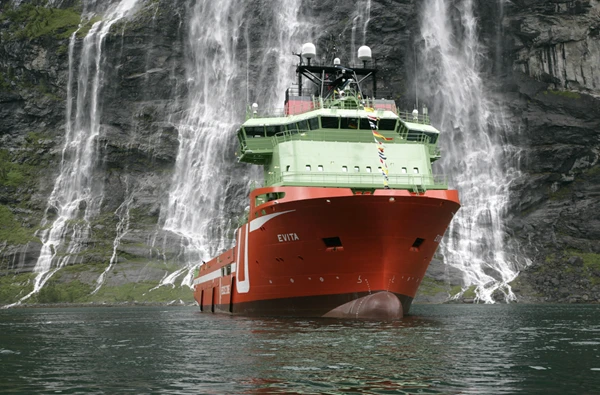 The class notation Clean Design ensures low emission. A catalytic system reduces the engines' NOx emissions considerably and, in addition, the vessel is equipped with a ballast water treatment system. With light ice class
(ICE C), the vessel is well suited for operations in northern waters. The vessel has oil recovery equipment (OIL REC and NOFO 2009) and is equipped for standby services and rescue operations, adding to the ship's versatility.
In line with the company's investment strategy, another state of the art PSV of the Salt 100 design, integrating safety with environmentally friendly propulsion and operational flexibility, has been contracted with Kleven, scheduled for delivery first quarter 2014.