Press Release - JJUC invests in Platform Supply Vessel (PSV)
PRESS RELEASE
The J.J. Ugland Companies (JJUC) and another investor have signed a contract with Kleven Maritime for the construction of an advanced platform supply vessel (PSV) designed by Wärtsilä Ship Design Norway. The vessel is to be equipped at Myklebust Verft, Gursken, in Sande municipality, Norway. Delivery is scheduled to June 2012.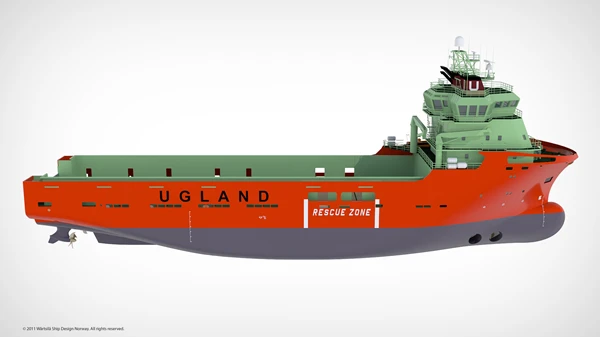 The vessel of about 5,000-dwt will have a length of 85 metres, a beam of 20 metres and a deck space of 1,000 m2. The class notation Clean Design will ensure low emissions. A catalytic system will reduce the engines' NOx emissions considerably, and in addition, the vessel will be equipped with a ballast water treatment system, a new environmental-friendly requirement for vessels. With light ice class ( ICE C), the vessel will be well suited for operations in Northern waters. The vessel will also have oil recovery equipment (OIL REC and NOFO 2009) and be equipped for standby services and rescue operations.
Wärtsilä delivers design, generators, automation and electrical systems.
The vessel will be operated commercially and technically by Ugland Offshore AS in Grimstad. This company is owned by JJUC, which means that the vessel will be operated by a fully integrated shipping company. The vessel will fly the Norwegian flag and have Norwegian crew.
JJUC has long experience from advanced shuttle tanker operation in the North Sea, Canada and Brazil. In addition, the company owns and operates a number of bulk carriers and barges.
Historically, the Ugland companies have long experience from operation of offshore service vessels and have previously owned and operated two anchor handling vessels in the North Sea as well as several offshore construction vessels. The investment in a PSV newbuilding thus marks JJUC's re-entering into a market segment where the company anticipates increased demand. JJUC regards this as a strategically long-term area of commitment and expects to invest further in this segment.
For further information, please contact
A/S Uglands Rederi
Managing Director Øystein Beisland
Mobile: +47-911 34 411